If you are contacted by a buyer who cannot meet or speak to you, or who wants to proceed with a sale through a third party company, please be cautious. 
These usually start off with an SMS message asking you to email them. Here are some examples: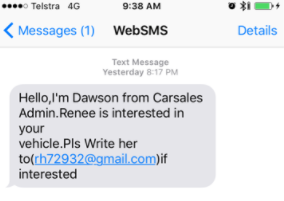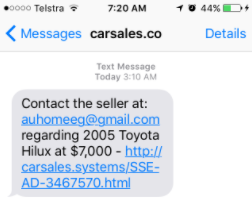 We always recommend you attempt to speak with the buyer over the phone and plan an inspection. 
If you are unsure whether message is a scam, please phone our Customer Service Team on 13 72 53 (13 SALE) for advice or send an email to safety@carsales.com.au 
If you are engaged in any ongoing correspondence with a suspicious seller, we urge you to exercise caution; do not provide any personal or financial information or part with any money in advance of taking possession of the goods.
If you think you have seen a scam or have been scammed by a buyer or seller, you can contact the Australian Competition and Consumer Affairs Commission: